VitalityPRO™ is an expanded version of the StressPRO™ for the workplace, which empowers individual employees to achieve:
a more productive balance of stress and satisfaction in their work,
the engagement-with-work which drives consistent contribution to team targets, plus
greater on-the-job resilience based on improved personal stress control, and balance in work and personal life.
VitalityPRO™ provides the user access to both (a) a 6-page "My Top Priorities" report as well as (b) a 32-page "Detailed" report. Both formats provide action-focused guidance directly supporting:
self-directed management of stress, lifestyle and work life challenges or

fuller, more personalized benefit from a group-based workplace training program or

accelerated gains from one-to-one coaching
Results we have created with our clients include…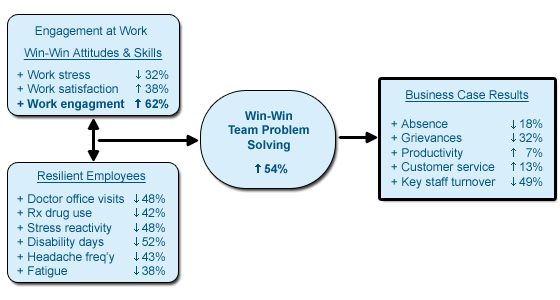 Rooted in a 13-year history of applied workplace research, VitalityPRO™ is a 145-item online questionnaire which provides:
Each employee receives their fully personalized, confidential Profile, a motivating, action-focused report which includes all the personal, work life and lifestyle guidance provided by StressPRO™ plus more detailed guidance for managing work stressors and the critical issues of engagement, stress and satisfaction in their work life.
Data analyzed and confidentially reported in our aggregate Corporate Vital Signs diagnostic, guiding corporate decision makers in protecting the productive wellbeing of their workforce.
Contact us: diagnostics@stresscanada.org