CERTIFICATION  WORLDWIDE
INTERNATIONAL REACH:  Since 2003, the Institute's web-based certification training for professionals has prepared graduates worldwide including: SOUTH to NORTH: ♦Argentina  ♦Brazil  ♦Mexico  ♦USA: New York to Hawaii  ♦Canada: Newfoundland to British Columbia  ♦Iceland, and EAST to WEST:  ♦Japan  ♦China  ♦New Zealand  ♦India  ♦Middle East  ♦EU: Lithuania to France, Spain and the U.K.
We have prepared Associate Centers in Japan [2007], Saudi Arabia [2011] and in the United States of America [2015]. To learn more, click HERE
BACKGROUND:   Roots of the Institute's SWC(c) training for professionals.  Regarding stress, Dr. Hans Selye's name is globally synonymous with creative understanding, rigorous science, and solutions … evidence-based solutions which restore balance, satisfaction and productive wellbeing … for individuals and for workplaces.
Since its founding in 1976, the Hans Selye Foundation has continued to lead in integrating academic and practitioners' "big picture" understandings of the stressful challenges of "Man Adapting" in a "Future Shock" world.
For the past 37 years, applied research at Dr. Selye's Canadian Institute of Stress has translated resulting Foundation insights into evidence-based tools and know-how evaluated and refined in clinics and corporations internationally. Web-based training, certification and ongoing collaboration with practitioners and SWC(c) graduates globally has, since 2003, accelerated scientific study of solutions warranted to bear the Selye name.
>> CERTIFICATION PROGRAMS FOR PROFESSIONALS << 
Two diploma-focused certification training programs are available online: Stress & Wellness Consultant  

and

 Institute Specialist Toolkits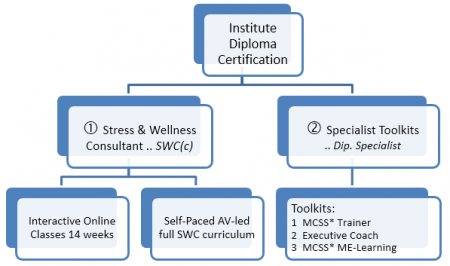 (1)  Certified Stress & Wellness Consultant

 

 SWC(c) training is available online in either of these

two training formats

 respecting students' time availability, flexibility and time-zone location.
SWC Format 1.1  Live Interactive:  One semester (14 weeks) of two 2-hour live online interactive SWC class meetings per week
OR
SWC Format 1.2  Self-paced  (to be completed in < 28 weeks):  ♦ Auditing MP4 recordings of all Live Interactive classes  ♦ Receiving all Format 1.1 materials  ♦ plus four 1-hour online meetings pre-scheduled with your Institute instructor
 SWC(c) training focuses on the applied professional skills required for
♦ Conducting marketing presentations and briefings  ♦ Skills training workshops  ♦ One-to-one or group-based coaching or counseling  and  ♦ Confident flexible program consulting and design
More detail about …
♦  To inquire further about becoming certified as an Institute certified SWC … Contact us at SWC
(2)  

Institute 

Toolkit Specialist  Online certification for professionals' application of Institute evidence-based Toolkits is available for:
Click on any of the three Toolkit links above to view that Toolkit's range of applications, the tools & methods it trains and licenses you to use, plus course Administration and tuition.
♦  To inquire further about becoming certified as an Institute Toolkit Specialist  … Contact us at  Toolkits